Martin del Rosario believes that the elocution contests and debates he joined in school helped make him a better actor.
"I started competing when I was 5. The first piece I had to recite was a prayer. I cried for days because I couldn't memorize it," Martin, now 18, tells Living Stars. "The pieces got longer as I grew older. Memorizing long lines is easy for me now."
Martin studied in Lourdes School in Quezon City, where he met his talent manager, Jun Reyes, in 2007. He joined acting workshops and became part of ABS-CBN's Star Magic that same year.
Martin first appeared in "Star Magic Presents" in 2008, then in three episodes of the drama anthology, "Maalaala Mo Kaya." He worked on other Kapamilya shows till he landed the lead in Joaquin Pedro Valdes' horror film, "Dagim" (2010), which won for Martin several acting awards. On TV, he was last seen in the top-rating drama, "Minsan Lang Kitang Iibigin."
He will be seen in the rom-com flick "Won't Last A Day Without You," to be released on November 30.
"At first, his dad and I weren't too keen on Martin becoming an actor," recalls mom Tet. "But I thought, if Martin asked us at age 25 how his life might have turned out if we let him join show biz, how would we reply? Besides, he kept his end of the bargain, finishing high school ranked second in his class."
Books
I've been a collector of "Goosebumps" since in Grade 2. My first one was "The Blob That Ate Everyone." I love scary stories. I was also interested in all things yucky – goo, flies, insects – and fascinated with dinosaurs. "Goosebumps" used to cost only P100, now it's P270.
Growing up, I wasn't too interested in toys. The first book I read was "Children's Book of Knowledge." I memorized everything written about dinosaurs, insects, planets, constellations, even mythology.
These flash cards served as references and helped me in school. I also have a plastic model of the human body, complete with all the parts.
Memorabilia
I got into boxing last year (shows off red gloves). I needed to trim down, and someone told me that boxing was the best way to do it. I tried it, and liked the sport at once.
I wore this green cotton shirt in "Minsan Lang Kitang Iibigin." The wardrobe department let me keep it. I was so happy.
BEST New Actor trophies he got for the film "Dagim"
Trophies These trophies are memorable because they were my first acting awards (New Movie Actor honors from PMPC and Breakthrough Performance by an Actor from Entertainment Press Society, for "Dagim").
HE ADORES white sneakers.
My mom kept all my medals from school. They are mostly for academics, but there are some from elocution contests. I also received certificates of excellence in high school.
Footwear
Converse provides most of my shoes. I like this brown leather pair; it's different from other Converse designs. I like white sneakers more than colored ones. I have a couple in black hard leather.
Gadgets
HIS T18 cell phone from My Phone
I like using the My Phone T18 for calling and sending text messages better than my iPhone. It's user friendly, cute and lightweight. I mostly play games with my iPhone. I have an Acer laptop that I use more for homework and for surfing the Net.
Scents
HE PREFERS fresh and sweet-smelling scents
Lacoste is my favorite perfume. Clean For Men also has a fresh scent. Green Water by Jacques Fath intriguingly smells like lemon grass; I like it. And also Acca Kappa for its sweet smell.
Accessories
I'm not into accessories, but I wear a watch if I have to. This Bench watch was one of the first things I bought with my earnings as an actor. I prefer
THE FIRST piece he bought from his first earnings in acting
sporty types to the more formal ones.
I collect dog tags. I have a lot in different colors and sizes, but the most memorable is the one I used in "Minsan Lang Kitang Iibigin." It's engraved with my character's name – Norberto E. Matias.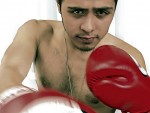 SOURCE:
http://entertainment.inquirer.net/21561/out-of-the-closet-he-collects-dog-tags